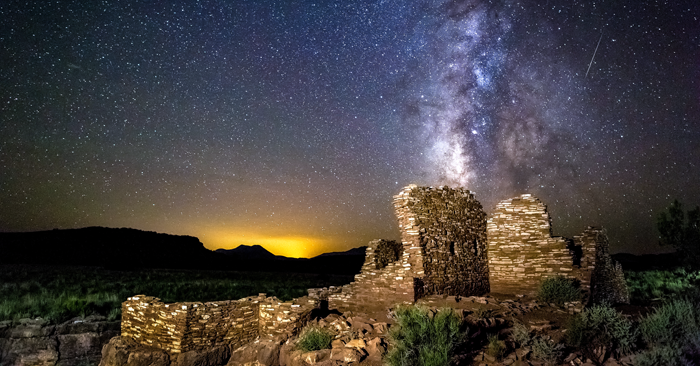 About
The Flagstaff Area National Monuments were established early in the 20th century to protect a combination of natural landmarks and archaeological sites. Wupatki and Walnut Canyon highlight the material culture and architectural skill of the Ancestral Puebloan people who inhabited the area in the centuries before European contact, while Sunset Crater Volcano preserves lands around a volcano that erupted as recently as the 11th century (and which would have resulted in significant impacts to people then living in the vicinity). Together the three sites underscore both the human experience and natural drama of prehistoric northern Arizona.
The three Park units are jointly managed by the U.S. National Park Service as though they were a single property. Because of their joint management and similar circumstances with respect to night sky brightness, the constituent units received a single Dark Sky Park designation. Public education and outreach takes place at all three units, with emphasis placed on reaching the residents of nearby Flagstaff (population 69,000). A cooperative atmosphere between local astronomical observatories, the City of Flagstaff, and area land management agencies – and effective city and county outdoor lighting codes – render the Park's dark skies relatively defensible despite their proximity to the city.
Designated
2016
Category
Dark Sky Park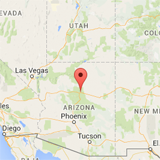 Address
Sunset Crater Volcano National Monument
Walnut Canyon National Monument
Wupatki National Monument
Headquarters:
6400 U.S. 89
Flagstaff, AZ 86004 USA
Tel.: +1 928 526 3367
Google Maps
Contact
Land Area
170.1 km2
Documents
Application
Lightscape Management Plan
Announcement
Annual Reports
Weather
Click here to find ideal environmental conditions for viewing the night sky at Flagstaff Area National Monuments (35.17058, -111.50972). Don't forget to plan your trip during the new moon and astronomical twilight to enhance the viewing experience!