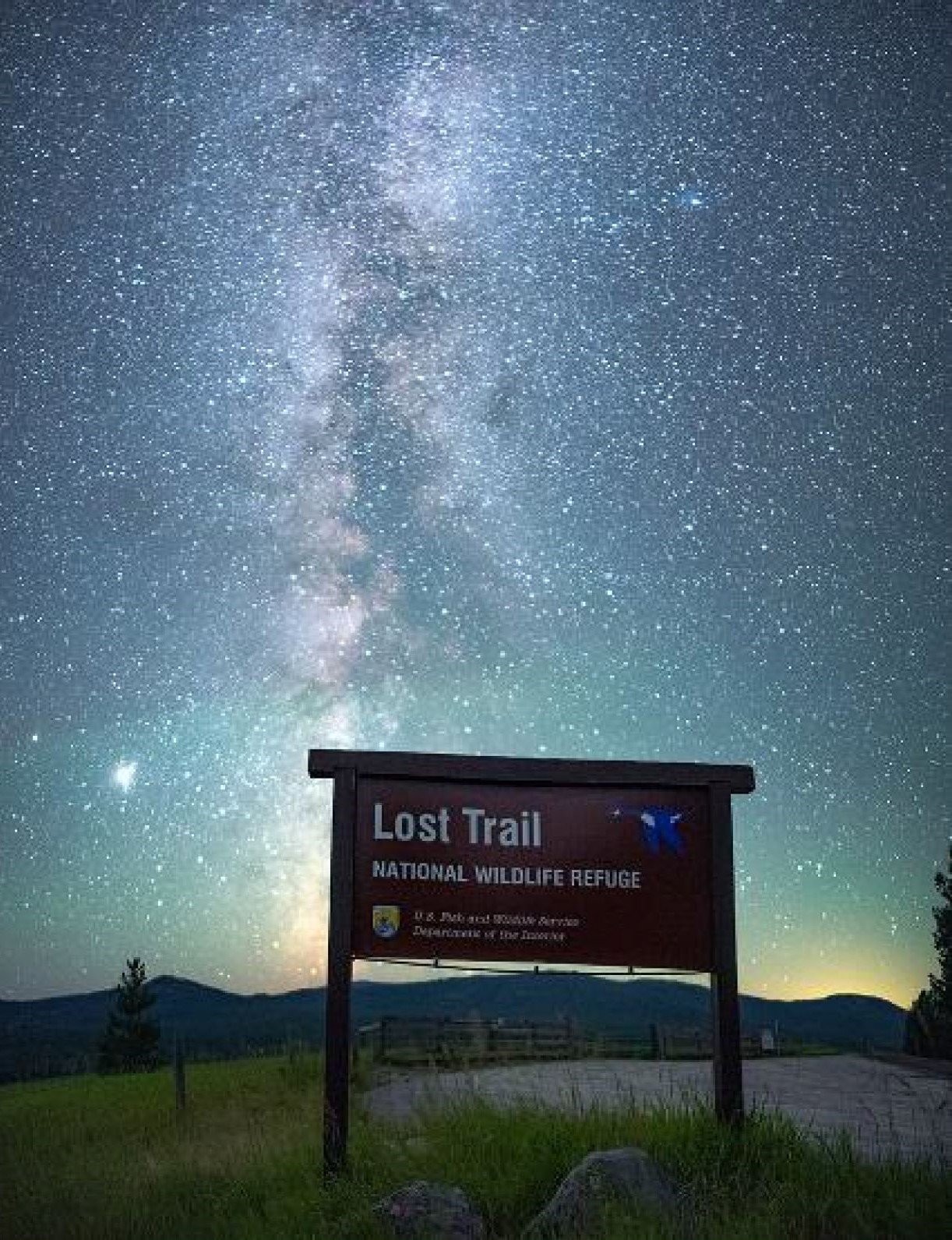 About
The Lost Trail National Wildlife Refuge is located in Pleasant Valley, nestled in the Salish Mountains of northwestern Montana, United States. The Refuge was established by the U.S. Fish and Wildlife Service (USFWS) in 1999 to mitigate wildlife habitat loss caused by the operation of Kerr Dam located to the southeast. The 9,225-acre Refuge provides foraging and nesting habitat for migratory birds and supports a diversity of flora and fauna, including moose, deer, elk, bears, wolves, and the protected Canadian lynx. The Refuge is home to 440 plant species, including the federally-threatened Spalding's Catchfly plant.
As part of their ongoing commitment to dark sky conservation, Refuge staff will be hosting on-site stargazing programs and conducting community outreach in collaboration with the Big Sky Astronomy Club. Outreach efforts will include a focus on raising awareness within surrounding communities in Flathead County. Additionally, the Refuge will be working to promote the dark-sky movement in partnership with Waterton-Glacier International Peace Park – International Dark Sky Park. Staff have also produced a site-specific web page highlighting best practices for outdoor lighting and night sky conservation. On site, they have developed an interpretive exhibit featuring dark sky conservation and maps with guidance on stargazing at the Refuge.
One hundred percent of outdoor lighting at the Refuge is dark-sky friendly and follows the 5 Principles for Responsible Outdoor Lighting. Long-term measures to protect the region from outside threats to the nocturnal environment are underway through the Lost Trail Conservation Area project, which will ensure protections for an additional 122,470 acres of public and private lands surrounding the existing Refuge.
Recreational opportunities at the Refuge include wildlife viewing, photography, hiking, stargazing, and hunting. Refuge lands are open 24 hours/day and offer multiple designated parking areas for safe night sky viewing.
Designated
2022
Category
International Dark Sky Sanctuary
Address
6295 Pleasant Valley Road
Marion, MT 59925
Google Maps
Contact
Jessica Sutt
Website
Tel.: +1 239-238-3621
Land Area
37.3 km2
Social Media
Documents
Weather
Click here to find ideal environmental conditions for viewing the night sky at Lost Trail National Wildlife Refuge, (48.1799, -114.9142). Don't forget to plan your trip during the new moon and astronomical twilight to enhance the viewing experience!